About me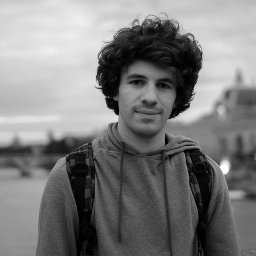 Hi! I am Jasper Van der Jeugt. I was born in 1990, and spent most of my youth in Lokeren & Ghent, Belgium. I currently live in Zürich and write code for companies such as Fugue, Bdellium and previously Better. Before that, I studied Computer Science at Ghent University where I was very involved with Zeus WPI for a few years.
Did I tell you I like to make stuff? I love to make stuff! That is why I am somewhat active in open source development. My interests there revolve mostly around the Haskell programming language. In addition to building libraries and tools, I also sit on the Haskell.org committee and I am one of the main organizers of a conference called ZuriHac.
Occasionally I like to write games, and sometimes I even finish them! You can try Beeraffe or Sokyokuban directly in your browser.
Apart from that, I have a very broad taste in music and movies, and I also love skateboarding and taking pictures.
Recent bλogposts
RSS Feed
All posts...
Browse by tag: algorithms (1), gamedev (1), ghent (2), haskell (68), life (3), linux (1), photography (4), random (2), ugent (4)