About me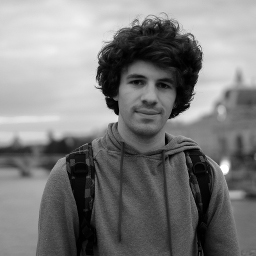 Hi! I'm Jasper Van der Jeugt. I study Computer Science at Ghent University. I was born in 1990, and I'm currently residing in Lokeren & Ghent, Belgium. Did I tell you I like to make stuff? I love to make stuff! This is why I'm very active in open source development, mainly centered around Haskell.
This is a personal, mostly technical blog on various topics including (but certainly not limited to) functional programming languages, web development, coding and scripting.
Apart from that, I have a very broad taste in music and movies, and I also enjoy running and longboarding.
Recent bλogposts
"OdHac" ‒ May 8, 2013
My report of the Hackathon in Odessa

"Hakyll 4.0" ‒ January 16, 2013
New major release of the Haskell static site generator

"Skateboarding and the Belgian police" ‒ December 19, 2012
A minor run-in with a police officer in Ghent while skating

Feed
All posts...
Browse: algorithms (1), gamedev (1), ghent (2), haskell (36), random (2), ugent (3)